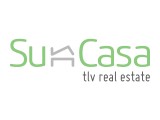 Su Casa TLV Real Estate
We'd like to personally welcome you to Tel Aviv, the White City.

When you work with Su Casa TLV in finding real estate in Tel Aviv, you will gain access to a contemporary Mediterranean metropolis boasting a vibrant cultural scene.

Tel Aviv's charm lies in its many distinct neighborhoods; each with their own story to tell, their own atmosphere and attractions.

We are dedicated to findiang your perfect home, and offer you real tools and real solutions to navigating Tel Aviv.

Whether you are looking to rent, buy or sell property in Tel Aviv, Su Casa Tel Aviv is bringing you home.
Coordonnées de l'agence
36 Ruppin, Tel Aviv
63117 Tel Aviv - Jaffa
Israel
Phone :
+972.5.28.87.57.07 - +972.5.28.87.57.07
Website :
www.sucasatlv.com