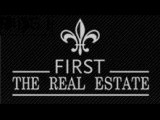 First The Real Estate
FIRST The Real Estate belongs to the TOTALIRT group's trade.
In 2009, the group TOTALITY realized a business volume of over 180 million euros.

FIRST The Real Estate is specialized in investment of European in the international real estate markets, primarily the USA and Panama. We strive to select the places with the tax benefits and most profitable cash.

Our customers find at FIRST's team highly competent experts of various orgines and backgrounds. Everyone find an appropriate answer to its objectives, its culture, its language requirements. Our reputation now covers much of the globe.

FIRST enjoys the confidence of many investors, thus forming a truly international network. Our faithful partners appreciate the clarity of our services and advice, the care given to each operation to secure and support each property investment.

First-class professionalism at all stages!
The current international real estate market is strongly oriented to the purchase. Many opportunities available to you, whether buying a first or repeat business investment.