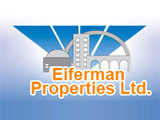 Eiferman Properties
Interested in property in Israel?
Consult with EIFERMAN PROPERTY 's team of licensed, experienced bilingual realtors.
Whether you have in mind a home, vacation spot, business or investment; whether you wish to sell, rent or purchase; whether you live in Israel or abroad, we will guide you through the entire process, from an initial needs assessment through signing a contract … and beyond.
Coordonnées de l'agence
Halamed Hey 38
91000 Jerusalem
Israel
Phone :
+972.2.65.14.03.0 - +972.2.56.71.06.0
Website :
www.eifermanrealty.com